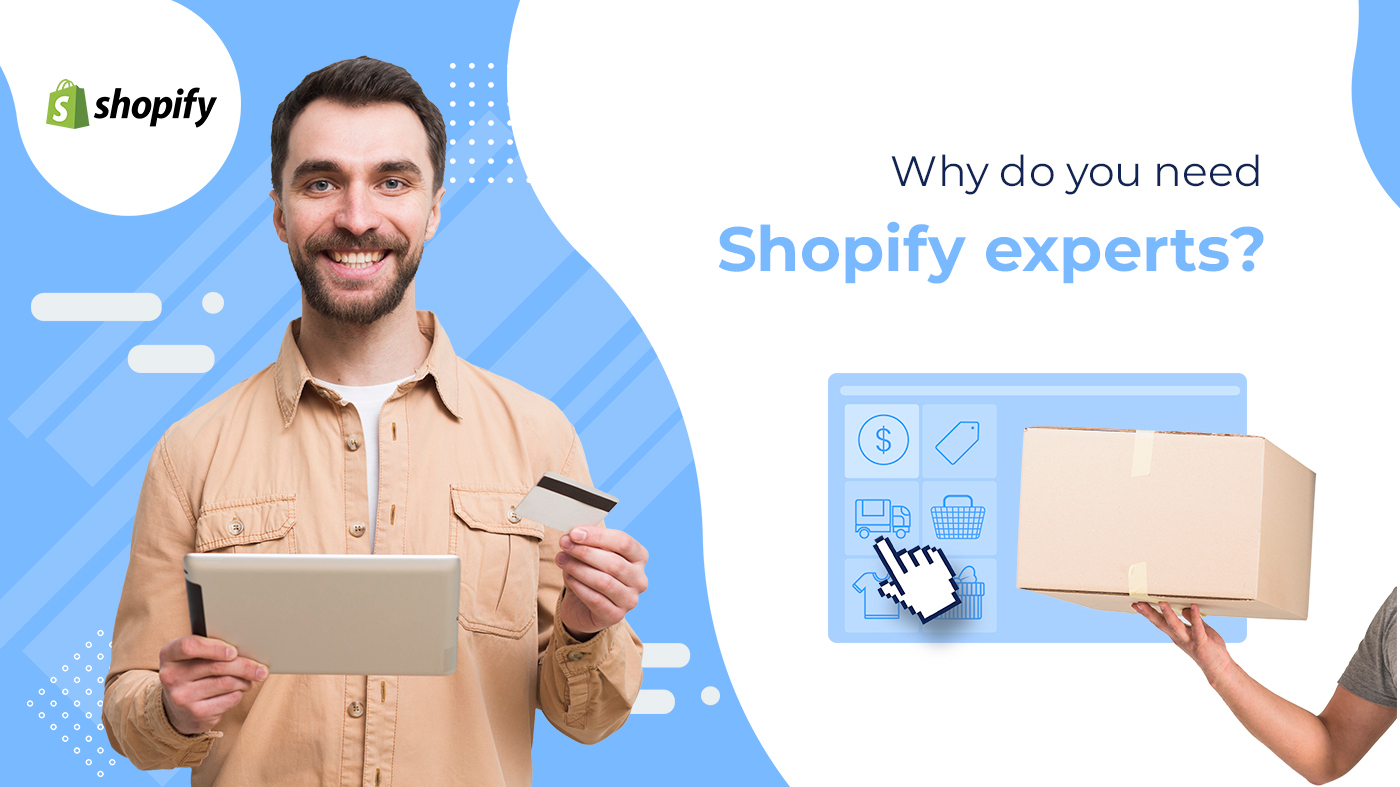 May 2nd, 2022
Why do you need Shopify experts?
Being an entrepreneur, you probably know all about Shopify and how it can help you grow your business.
The present-day retail business no longer resembles the one that existed before the pandemic struck. E-commerce is now gaining more and more ground, pushing the traditional brick-and-mortar model father away.
Selling products online is a challenging task. Online merchants have a lot to take care of, for example:
Fulfilling customers' orders
Setting prices for products
Advertising the store through various channels, such as social media
Monitoring the inventory for out-of-stock items
Responding to consumers' queries and complaints
Building your very own online store is a cakewalk when you use Shopify. There are many freely available themes and apps that you can use to create a website. However, you need to keep in mind that countless people like you will be using the same themes to create their websites. So, how do you create a unique website that buyers will find attractive and engaging?
To create exclusive websites that will benefit your business in the long run, you require the help of a Shopify expert's help. Debating whether it is worth to hire a developer?
Here are a few advantages of hiring expert Shopify developers:
1. Makes your website unique and attractive
One of the most important advantages of hiring a Shopify expert is that you get to develop a unique and customized website for your company. This would not be possible if you would create a website using common themes that are freely available.
Your customers do not only focus on the products and services you offer. If a customer visits your website and it doesn't have an attractive and personalized aura to it, they will automatically lose interest in your products and services.
Paying attention to your digital appearance has become very important to expand your business. Having a user friendly and well-navigated website is the key to gain customer attention and increase your reputation.
2. Search engine optimized website
Search engine optimization is the practice of structuring your online content in a way that gets them a higher rank from Google.
SEO is a subject of great concern for website developers and owners alike. If your website is not search engine optimized, it will never appear in the first listing of your search engine result pages.
Any web design agency with the Shopify Expert tag knows how important Search Engine Optimization is and will build websites with this in mind. Some of the experts will have specific teams to do this, while others will have multi-skilled staff who can set up the site for SEO work down the line. Either way, you want people to see your amazing new site, and SEO can do this for you.
3. Fresh Perspective
Sometimes, when you own or run a business, you're so deeply involved that you aren't really aware of what's happening on a larger scale.
A fresh set of eyes can help bring a new life into your brand and find any areas of improvement you may have missed. The Shopify experts can help pinpoint what aspects will improve the online store experience and in turn increase conversions.
The expert Shopify developers know the online market and trends inside and out and can deliver the best website that is not only perfect for your business but also follows the latest trends of the online market.
4. Better functionality
Shopify developers have the ability to increase the functionality offered by Shopify templates and mould them according to your requirements. This additional functionality might be the thing you need to take your business to the next level.
If you have tried creating a website on your own, you might have faced certain limitations and difficulties. There are no such limitations involved while working with expert Shopify developers as they have in-depth knowledge in this field.
5. Social media at your disposal
The online market is all about marketing your business via social media platforms like Twitter, YouTube, Facebook, etc. Shopify makes your online marketing task very easy as you get the advantage of integrating your e-commerce business into such significant media platforms. The in-platform shopping functionality offered by Shopify allows you to engage and attract traffic from such social media platforms.
6. Keep branding consistent
Without good branding and set guidelines, sometimes a company can lack focus and consistency across its digital presence. Shopify Experts know the benefits of brand consistency to ensure your site matches with your brand, as well as providing the tools to develop and maintain your store on your own terms once launched.
7. They are Shopify Experts
There's a reason they're called Experts! Shopify Experts get their namesake for the hard work they put into creating beautiful Shopify sites and, given the need to keep building online stores consistently, they know how to do it efficiently while meeting their client's expectations.
Experts can add value by making recommendations on user experience, converting customers, and coding bespoke solutions. Often part of a team, they offer different areas of expertise, from web development and design to digital marketing and email automation, so you have access to tightly honed skills all in one place.
There are countless advantages of hiring expert Shopify developers, the most obvious one being that they are skilled in developing websites. With your limited knowledge and resource you might be able to develop a basic functional website by using Shopify templates. However, with the help of developers, you can create a website that suits your brand and increases your market reputation.
Considering moving to Shopify or want to create something new? We have been proud Shopify Experts and would love to have a chat about your site! Contact us to get started.